Reading Time:
4
minutes
In our Facebook group 'Social Media Managers' we often receive questions about resumes, online portfolios, case studies, CVs and 'ways to gain clients'.
In this article, we are going to talk about portfolios.
What is a portfolio?
Who needs a portfolio?
How can a social media manager stand out with their portfolio"
Portfolio ideas to get hired!
If you are thinking about creating a portfolio for yourself or your business, or want to update and refresh the social media portfolio you have, keep on reading!
Portfolio vs Resume vs CV
Let's talk portfolio vs resume vs CV first.
Not everyone understands the difference between these, and it's hard to know what you need to create and share with whom, and when.
"A portfolio is a collection of work samples that you can bring to an interview, send to a prospective employer, or even post online. They can: Provide evidence of work that you've done. Illustrate your skills and abilities."
As far as a resume goes, we like this definition
"A resume is a written compilation of your education, work experience, credentials, and accomplishments. Most professional positions require applicants to submit a resume and cover letter as part of the application process."
SIDE NOTE: For those in countries other than the USA, you might have a need for a CV. Read about the difference between a resume and a CV here, the main differentiator being that "a resume is a brief summary of your skills and experience over one or two pages, while a CV is more detailed and can stretch well beyond two pages. The resume will be tailored to each position whereas the CV will stay put and any changes will be in the cover letter."
Why and When You Need a Resume or CV
You need a resume, or CV, when you are looking for a job, a new opportunity.
For in-house social media managers, a resume is often still asked for despite the ask for a portfolio at a later stage during the interview process to show off your design skills.
Most employers looking to hire new employees want to read a resume.
A resume and a cover letter are usually the first contact with a potential new boss. It's important that your resume not only looks great but highlights the skills needed for the specific job you are applying to. Standing out among a sea of resumes is no easy feat.
It might be a good idea to hire a resume writer if you have trouble getting past the first round of interviews, or aren't getting any interest in your resume at all.
Why and When You Need a Portfolio
If you are a web designer, UI designer, graphic designer or have these skills and you are offering them as part of your social media manager packages, you will need a portfolio.
I would recommend you have both available for that matter, not either-or.
Those who hire designers in-house will want 'proof' of your ability to design, while those who want to work with you as a freelancer or web-based designer, will want access to a design portfolio to see past work.
Preserve Your Work 'As You Go'
Caution; do your best to preserve your work as you go meaning do not wait until your project is completed or until your client has gone out of business and 'gulp' has deleted their social media channels (yes, that happens!)! That would mean no screenshots for you and no way to showcase the work you did.
Keeping your portfolio updated and fresh also helps you not feel the need to constantly market! Your portfolio is ready at a moment's notice and you can send it out to anyone at any time!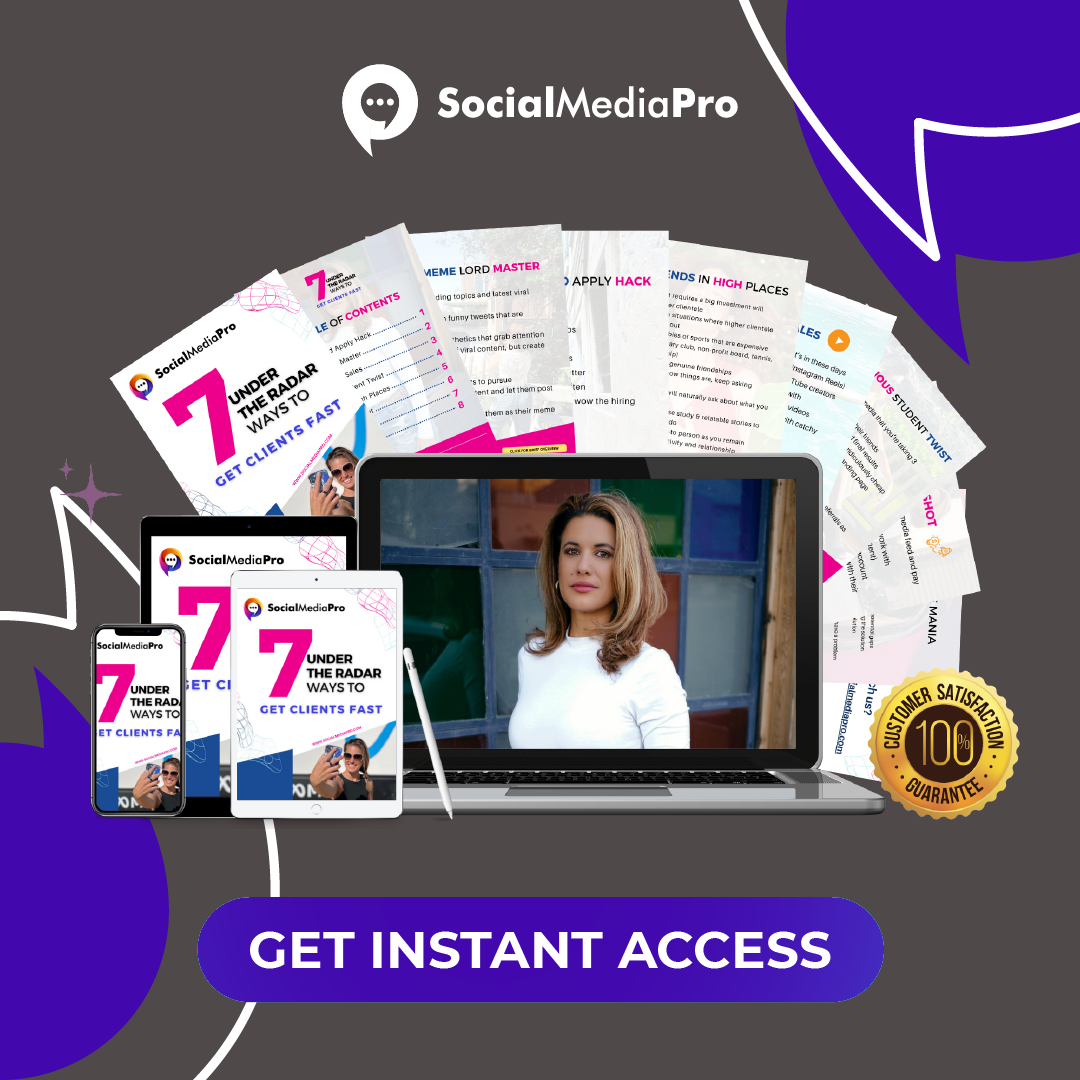 What to Put in Your Portfolio
Your portfolio should show off your skills, style, brand and …you! By looking at your portfolio, someone should start getting to know, like and trust you; it should be a reflection of who you are, what you stand for, how you work and why you do what you do!
Here are some ideas of things to put in your portfolio. By all means, go to town but don't include everything! Make it yours, brand it and make it unique to stand out!
about me
skills
resume page
visual work
content examples
projects
ad campaigns
testimonials
case studies
blog content examples
videos
analytic reports
screenshots
That's a long list of options; before you choose what sections to add to your portfolio, I suggest you find the best format to fit your need, first.
The Best Portfolio Ideas To Get Hired!
Here are some of the best portfolio formatting ideas I've seen.
Website
Website Page
Landing Page
Portfolio Site (i.e Behance, Issuu)
Blog
LinkedIn Publisher
Printed Copies for Local Networking
Slideshare (or Google Slides)
PDF
Video
LinkedIn Profile
Pinterest Board
Infographic
Here is one last portfolio idea from our friends at Planable!

"If you're already working in Planable with any of your clients, you can filter & select the posts you're most proud of and then export them into a beautiful PDF to showcase in your portfolio or to other prospects."
That's a super cool way to share an up-to-date portfolio!
Last Wise Words About Portfolios
As we social media managers work in the digital space on a daily basis, I'd encourage you to create a digital product, a portfolio website, first. Working with local clients, you might eventually create a printed version to help you network and sell your services if you do local speaking at networking events.
Keep things simple. Portfolios can be simple and should be easy on the eyes.
When creating online portfolios, adhere to all graphic design and web design rules; leave plenty of white space, brand your portfolio with your color scheme, and make your portfolio as attractive as possible for potential clients.
If you expect to be working remotely with your clients, I would like to add one last suggestion; create a welcome video that can be watched as a full-screen video (so not a mobile vertical video) as an introduction to your portfolio. A video message creates an atmosphere of know, like and trust early on. By the time you interview or participate in a Zoom call, this potential client will feel like s/he knows you because they watched that video. As with the rest of your portfolio, keep that welcome video updated and fresh!
I am a Certified Social Media Manager, Strategist, International Keynote Speaker, Organic Specialist and Agile marketer! Blogging is my creative outlet. Running, hiking and skiing are how I recharge. You'll recognize me on stage and online by my always present orange glasses, a nod to my Dutch heritage.