Reading Time:
4
minutes
Do All Social Media Managers Create Content Calendars?
Newsflash!
Not all social media managers create and share a content calendar with their clients.
Say what?
Depending on the relationship between client and contractor; the length of their relationship, the trust factor between both parties, the expertise of the social media manager, the nature of the content as well as the size of the marketing team, a content calendar may or may not be shared between both parties!
More often than not, new social media managers do share content calendars with their clients for at least the first few weeks or months. This is good practice as it takes a bit of time to get the right feel for a new client, a new industry, and a brand new social media voice.
Once the client-contractor relationship is an established one, the need for a weekly or monthly content calendar seems to diminish greatly. Some social media managers never go back to creating content calendars once trust has been established, others will continue to create these calendars but more as an added resource for the client or team, than a way to get feedback.
Let's take a look what it takes to create a content calendar.
How Often Do You Provide a Content Calendar To Your Clients?
Let's establish right here, right now that
creating a content calendar is a lot of work in addition to creating the actual content
Therefore, if you currently do not charge for this task, but do spend a lot of time creating these calendars, you need to change your contract and pricing structure of your packages going forward to include a fee for content calendar creation.
If you do create a content calendar for each client, how often do you share these calendars with your client?
Most often, content calendars are shared monthly. More hands-on type clients could ask to be served a weekly content calendar. Initially, we suggest you go with what your client prefers and requests. Adjust the timing of your calendar as the client-contractor relationship progresses and you get to know the client and their industry.
---
---
How Detailed Does a Content Calendar Have To Be?
How detailed you get when creating a content calendar depends on you, the expert, first and foremost.
You, the social media manager, set the tone, timing and expectations for content, especially when working with a client who is new to social media marketing.
If you have a client who knows what s/he wants, demands a calendar and wants to, or needs to, approve all content, you will need to go into more detail.
Here are important pieces of information you could be adding to a content calendar. This will create a pretty detailed content calendar when all is set and done!
Platform to be posting to

Time of day the post will go out

Type of post (link, graphics, photo, video)

Created or curated content

Hashtags to be used

Tags to be inserted

Location to be tagged

Cross promotion to other platforms
Laying out a content calendar for a whole month for all platforms allows for creating a good mix of curated and created content, links back to your own website, promoting the right content at the right time and no overlapping of the same content. Having this calendar also helps you get the content you need from your clients on time, including images and videos!
NOTE: When you work with a marketing team, creating a content calendar is a must. When each team member creates and provides a different piece of content it is essential that not only a content calendar is created each month, but also an editorial calendar is established! For example, when you have a videographer, a graphic artist, a blog writer, a copywriter and an advertiser working together, you will definitely need an editorial calendar, one that goes out as far as six-twelve months!
How Do You Create a Content Calendar to Share With Your Client?
Social media managers report many different ways they create content calendars. We recommend you use a program not only you are familiar with, but you pick a platform (or online tool) your client will be able to access as well.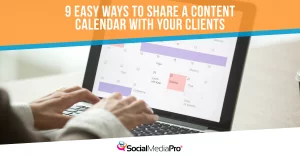 Here are 9 easy ways to do this.
Google Docs

Excel Sheet

Secret Facebook Group
Many of the tools mentioned above have either a free version or a free trial. We suggest you check out each tool and use what works for you, your team, your client, and your wallet!
How Do You Share And Receive Feedback About A Content Calendar?
After you create the content calendar, you, of course, will want feedback!
In order to get feedback about the content calendar you have created, your client will need to read and understand the content calendar. Your client will need to have access to that same tool or document you use and needs to understand what they are looking at, so factor accessibility and dashboard design into the decision about what tool you pick!
If you are dealing with a non-techie client, your last resort will be to take screenshots of the calendar and either email or even text them to the client each month for approval.
By sharing your completed content calendar with your client for approval, you are preventing potential issues down the line. 
Communication between you, the social media manager, and your client is extremely important. It is up to you if a content calendar is one of the communication pieces you need to discuss at your monthly meetings, or whether you can have established enough trust to set that aside.
Do you need client approval for content?
How do you share your content calendar with your clients?
We'd love to know!
Leave us a comment below.
I am a Certified Social Media Manager, Strategist, International Keynote Speaker, Organic Specialist and Agile marketer! Blogging is my creative outlet. Running, hiking and skiing are how I recharge. You'll recognize me on stage and online by my always present orange glasses, a nod to my Dutch heritage.