Reading Time:
6
minutes
As a social media marketer, your portfolio is your calling card. It's how you show potential clients and employers what you can do and why you're the best person for the job.
But when it comes to creating a social media portfolio, the task can often feel daunting and a million questions can ensue: What should be included? How should you format it? And how can you make sure it stands out from the crowd?
Whether you love your current clients or you're looking to make a change, having an up-to-date social media portfolio is a smart move for social media marketers.
Just like you keep your social media profiles updated for your business, keeping your social media portfolio updated with your recent work allows you to be ready to share it and showcase your skills and expertise at any given time.
You should look at your portfolio as a living, breathing representation of your work. A portfolio is an on-going project that's never quite finished.
If you've hit a creative block when it comes to your social media portfolio, this blog is here to help! We're sharing 5 unique examples of social media portfolios to help spark inspiration for your own portfolio and help you accomplish this important, yet sometimes difficult, task.
Why A Social Media Portfolio is Important
Let's start out by discussing the WHY of a social media portfolio. Why is a social media portfolio important, and who even asks for one?
If you are providing any type of digital services, including social media services, you will need a portfolio.
More often than not, you'll find that both in-house positions and freelance social media roles alike will ask to see an example of your work during the interview/hiring process.
This is why having an updated social media portfolio is so important. A portfolio serves as a showcase of your skills and accomplishments. It's a collection of your work that shows the areas you excel in and how you can benefit a potential employer or client.
Hiring managers and new clients will want proof that you're capable of providing the services required for the job, and will want to see examples of your past work.
Showcasing your work and your unique skill set is a great way to attract interested clients and demonstrate that you're the right person for the role!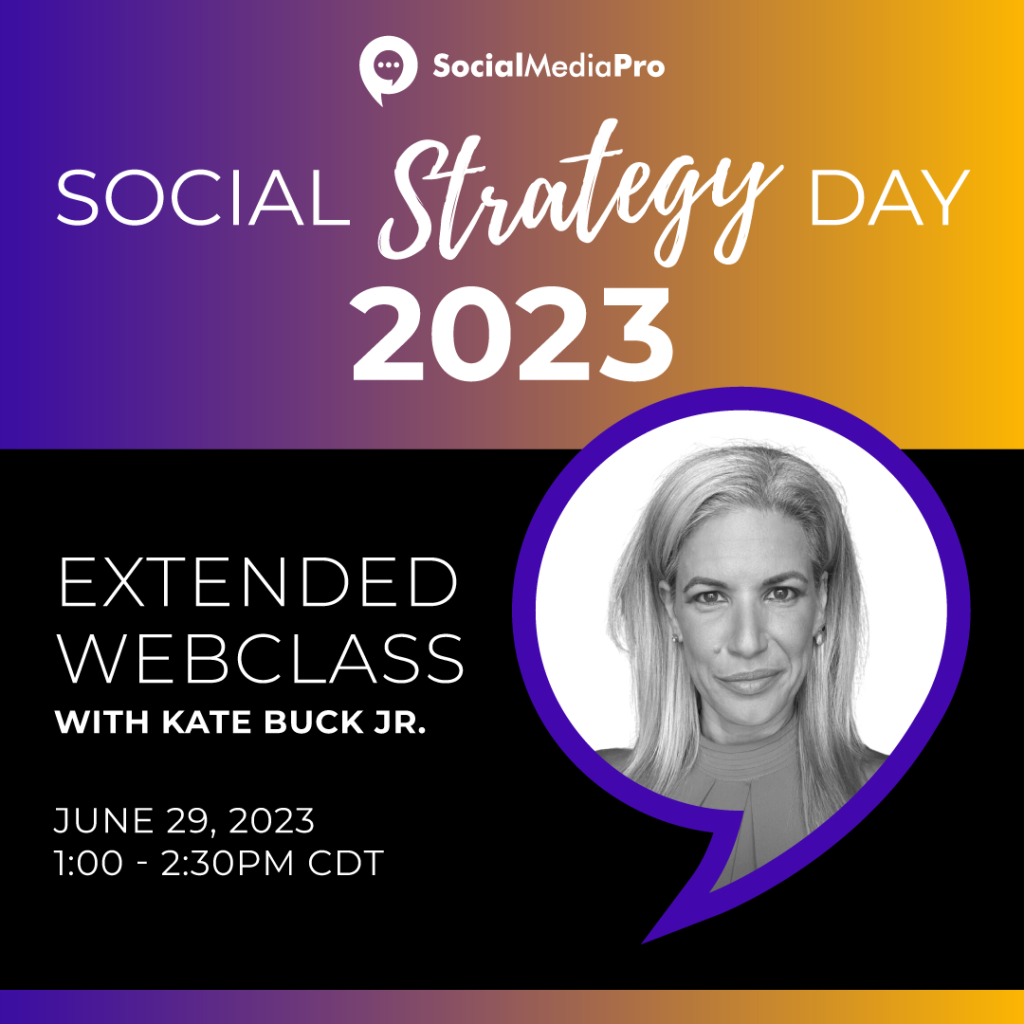 How To Create a Social Media Portfolio
Creating a social media portfolio might seem like a challenging task, but it doesn't have to be!
What you choose to include in your portfolio is entirely up to you.
Your portfolio should spotlight all of the different services within social media and digital marketing that you provide to your clients. This can include copywriting skills, video editing services, reels/shorts creation, graphic design, social media ads, email marketing… You name it! Each of your skills/areas of expertise can have its own section in your portfolio.
In a previous article, we gave this expert tip for creating a social media portfolio:
"Do your best to preserve your work as you go! Do not wait until your project is completed or until your client has gone out of business and 'gulp' has deleted their social media channels (yes, that happens!)"
That would mean no screenshots for you and no way to showcase the work that you did.
Keeping your portfolio updated as you go helps you to not feel overwhelmed when a new prospect reaches out to you about social media work. Your portfolio is ready at a moment's notice and you can send it out to anyone at any time!
Want more on the steps involved in creating a portfolio? Click here.
Pro Tips for Designing Your Social Media Portfolio
If you're deciding on the format for your social media portfolio, a blog or a website/landing page can be an excellent way to showcase your portfolio.
Blogs and landing pages are both great for SEO. This option can attract new clients to your work while also providing an easy place to access your portfolio.
No matter the contents of your portfolio or the formatting of it, make sure to always include a call to action at the end of your portfolio. This reminds the person looking at your work that there are next steps to take and it gives them the push they might need to reach back out to you.
Without a call to action, someone might like what they see in your work and forget to follow through in the process. Get specific about what you want a person to do once they've had a chance to look over your portfolio.
Examples of great calls to action include:
Call me now at xxx-xxx-xxxx
Set up a discovery call/consult
Connect with me
Learn more
Email me for next steps
Whatever you choose, make sure it's a clear call to action for your potential client/employer and that they know how to contact you!
5 Social Media Portfolio Examples to Inspire and Spark Your Creativity!
Now it's time to share with you five examples of excellent social media portfolios.
Each of these examples are from successful social media marketers who are a part of our amazing online community!
1. Julia Babicheva's Portfolio Example
Julia's portfolio can be viewed as a PDF by clicking the image below.
Julia first introduces herself to let her personality shine through. She then moves on to her work experience, followed by examples of her expertise and her completed work. Finally, she gives an invite (call to action) to "get in touch" to further the relationship.
Well done, Julia!
2. Juli Anna's Portfolio Example
Juli Anna's portfolio can be viewed as a PDF by clicking the image below.
This example not only has all of the 'must-haves' of a portfolio (an about me, resume, sample of work and services, call to action), she's also added her rates up front and has included testimonials of her work.
Incredible job, Juli Anna!
3. Tim Campbell's Portfolio Example
Tim Campbell-Smith, a talented blog contributor of ours, sent us his portfolio to share.
Click here to view Tim's Portfolio!
In his own words:
Kind of nontraditional and not always what people want, but prospects like it.

Tim Campbell-Smith, Social Marketer + Strategist
We love how Tim highlighted all of his accomplishments with numbers!
Note Tim's made his call to actions clear with big buttons "Book a consult" or "send an inquiry email".
4. Niyatee Shah's Portfolio Example
Niyatee sent us a link to her portfolio to share, too.
Click the image or go to her website here to see Niyat's portfolio.
While her portfolio looks shorter than the previous few we've looked at, this one is full of links to view her work and learn more about Niyat! It's a strategic way to engage the audience. By clicking through to discover more about this social media marketer, they are getting involved and 'invested'. The links are also great for SEO purposes!
Amazing work, Niyat!
5. Garrett Ramos' Portfolio Example
Last but not least, we have Garrett Ramos' portfolio.
Hi, I'm Garrett Ramos. This is a collection of some of my personal work covering social media and content creation. Enjoy.

Garrett Ramos, Content Creator + Digital Marketer
Garrett's portfolio is very visually-forward, which makes sense because he got his start by shooting and editing video content and photography and it's a big part of his skill set. When you click on an image in his portfolio, it provides a case study and more details on that particular project.
Make sure to click through to Garrett's website to view his portfolio.
Great job, Garrett!
Last Words on Social Media Portfolios
We hope these social media portfolio examples have helped to give an idea of the many unique ways that you can display your work, and helped to spark inspiration while you're creating your own.
Marketers are creative people. Get creative with your portfolio and let your work shine. Be expressive and don't be afraid to stand out from the crowd!
If you're looking for more inspiration from fellow social media marketers, be sure to check out our Connect Community.
Connect is our thriving, members-only community full of social media pros where you can stay sharp with "What's Working Right Now" in Social Media.
Group perks include a supportive community where every question is answered, live weekly training and Q&A sessions, and access to our library of 270+ past video trainings.