Reading Time:
6
minutes
Here at Social Media Pro we are excited to announce that our team member Emma has early access to the new short-form video sharing Instagram feature, Reels! She's agreed to share and give us all a peek behind the curtain of Reels!
While this latest Instagram feature has only been released in France, Germany, Brazil, and India, Emma got access because she resides in one of those countries!
Update: Because of Emma's early access to Reels, our Social Media Pro Instagram account now does as well!
Instagram Reels has been compared to TikTok, and has also been called "Instagram's answer to TikTok". It allows you to create and edit short videos up to 15 seconds in the Instagram Camera. Like TikTok you can add effects and music to your Reel or use your own original audio and it can be accessed from the Instagram Android or iPhone apps (not available on desktop)
We think it's going to be a game-changer for those among us who didn't want to learn or access, yet another app but would like this fun video-type feature.

Instagram's answer to TikTok's success = Reels
We are thrilled to partner with Emma to give you a sneak peek at what's to come to your Instagram account later this summer.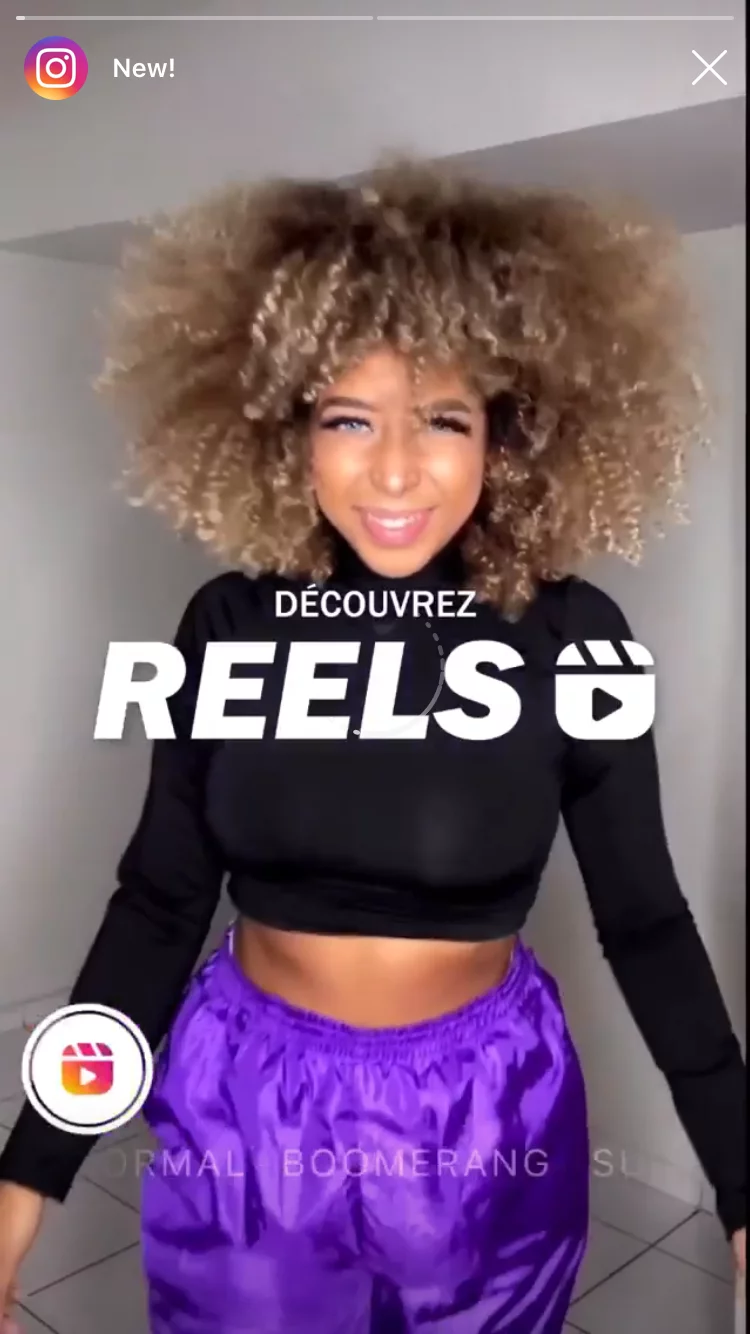 How To Find Instagram Reels on Your Device
There are 2 ways to find out if you have access to Instagram Reels.
When you first open your profile on your smartphone, click on the home icon ( ) at the bottom left of the screen.
Next, go to the top of the screen and, you should see Stories with an Instagram logo and the titled New!

Alternatively, you click on Your Story and see if the Reels option is there.
Congrats to those who already have access to Instagram Reels. You are among the lucky first wave of Reel users.
If you do not have Reels on your account, do not fret.
This new feature is scheduled to be released worldwide later this summer. Just keep an eye out, read how to create your first Reel and you'll be ready to roll from day one once you get access.
How to Create Your First Instagram Reel
Click on Your Story, from there you have access to Live, Story or Reels.
Once you select Reels you'll see this display and the following options.
Music :
With this music feature, you can choose a track within Instagram's music catalog or use your own audio content by embedding it in your Reel while it is recording.
Another great feature we found: Choose a section of track from the lyrics that appear onscreen. These disappear once the section has been selected.
Speed :
This effect allows you to speed up or slow down the pace of a video or audio content, with the possibility of making a short video in slow motion.
Effects:
Soooo many effects, we're like a kid in a candy store and there are two ways to access these effects.
You can either scroll from left to right at the bottom of the screen and pick one from there or…
scroll all the way to the right and browse through categories in the Effect Gallery.
At the time of writing the categories available are:
Instagram
Selfies
Love
Colour and Light
Camera STyles
Moods
Funny
Surroundings
Animals
Sci-fi and Fantasy
Weird and Scary
Events
Causes
Immersive
World AR
Games
Appearance
The really great thing about Effects on Instagram Reels is that you are not restricted to one effect per Reel.
An Instagram Reel can be up to 15 seconds long and, within the Reel itself, you can record multiple clips and add a different effect to each clip resulting in a multi-effect Reel.
Timer and countdown timer :
This tool helps you to record your clips without having to hold your phone, by starting a 3 seconds stopwatch before triggering the recording.
Align :
Want to align objects from a previous clip before recording the next one? With this feature, it's now possible to create smooth transitions, such as the arrival of new friends or outfit changes (like on TikTok)
Where to Share My Reel?
Once you've created your Instagram Reel there are several options of where to share it.
Post to your Feed or on Explore, these will appear in the Reels tab on your Instagram profile.
Alternatively, share your Reel to Stories and Direct Messages, these will disappear in 24 hours and won't appear on your profile.
Who Can See My Instagram Reel?
If your account is public then anyone on Instagram can see and share your Reels. Users can find your Reels on Explore and in the Effect, Hashtag, and Audio options.
For private accounts, only your approved followers will be able to see and share your Reels. When one of your followers shares one of your Reels then only your followers will be able to see it.
Keep in mind, when you post a Reel on a public account then anyone on Instagram can then create a Reel using your original audio. If your account is set to private no one can use your original audio.
Can I Delete My Instagram Reel?
Yes, and it's really simple to do.
Go to your profile and tap
Tap the reel you want to delete.
Tap on an iOS mobile device or on an Android mobile device.
Tap Delete>Delete
Can I Use Hashtags on Instagram Reels?
Yes, yes and yes.
Unlike Stories where you put a hashtag directly on the image, (either via a sticker, in text, or by using a location tag) you have an option with Reels to either post direct to your feed or to your Story.
If you post direct to your feed then you can create add caption and put hashtags in that caption.
And if that wasn't awesome enough, thanks to the recent Instagram update, you can also see the hashtag count directly from the caption!!
Where to Find An Instagram Reel Once It's Been Posted.
Once you've created your first Reel and sent it out into the Instagram universe a new tab will appear on your profile page.
From here you will be able to see who has liked your Reel and how many times it has been played. You will also be able to save the Reel, share and delete it.
This is also where your followers can find your Reels.
Interestingly Instagram has decided against giving Reels its own tab in the search feature unlike IGTV, this makes it more time consuming when looking for just Reels as you have to scroll through images etc.
It's early days for Instagram Reels but from what we've seen so far TikTok has some big competition.
As you can see below Dorien, Social Media Pro's Community Manager has been having a play with her first Reel on Instagram.
So now the decision is…
Are you going to be a TikToker or a Reeler?
Social Media Pro provides online courses that train students in all of the skills needed to become successful Social Media Managers.
Our ever-expanding faculty ensures our trainings are delivered by individuals that are highly skilled and successful in their areas of expertise.
Not only do we teach Social Media, most of our faculty members have Social Media Management agencies of their own and provide a wide range of daily services for clients.